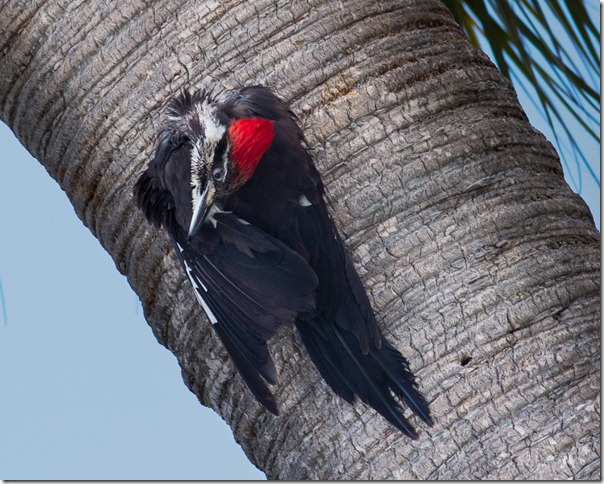 I've been chasing birds with my cameras for longer than I'd care to admit, and for one reason or another, I just never seemed to have a camera handy when I saw pileated woodpeckers. They are relatively common in Florida, and very striking with their "Woody Woodpecker" red crest. It's just that every time I see one, I'm without a camera.
So, when I spotted this young specimen on a recent Saturday, as I was preparing to mow the grass, I thought, "by the time I go inside and grab my camera, he'll be gone." I couldn't have been more wrong.
I grabbed camera, lens and tripod, and came back outside, and there he was, taking a bath in a rain puddle on my neighbor's roof. After a good long soaking, with much thrashing and wiggling, it was off to the nearest palm tree – for a prolonged round of preening. I was able to take pictures of this cooperative fellow for quite some time!
While the light wasn't the best, I wasn't complaining. I got my pileated woodpecker photographs, and I'm glad that when he came knocking at the tree next door, I was still optimistic enough to take the time to run for my camera.
Just in case.