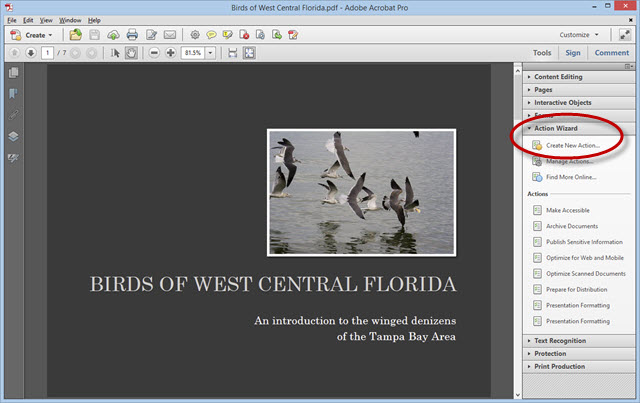 Did you know that Acrobat XI has an Action Wizard? That's right, if you look under the Tools Panel on the right, it has its own section. Here you'll find several pre-made actions for automating your workflow – but that's not all. Acrobat XI allows you to create your own custom Adobe Acrobat actions, simply by choosing the steps you want to automate.
When you're building your action, you have the controls available to set all the parameters automatically for each step, or to allow interaction. The action will pause and you can choose options and settings while the action is running. Actions can be a productive way to handle repetitive tasks, but that's not all. You can use actions to ensure that you're following a consistent set of steps each time you perform a critical task with your PDF documents. This can help create uniformity and consistency over a body of work. The actions help make sure you don't leave out any important tasks.
Example Adobe Acrobat actions are already included
When you install Acrobat XI, you get a variety of helpful automation tasks installed by default, including:
Making your documents accessible
Optimizing your documents for the web and for mobile devices
Optimizing scanned documents
Preparing documents for distribution by email or online
But, it's easy to create your own custom Adobe Acrobat actions, as you'll see in the video below.
This video is part of my course in Advanced Adobe Acrobat XI, available at Infinite Skills.