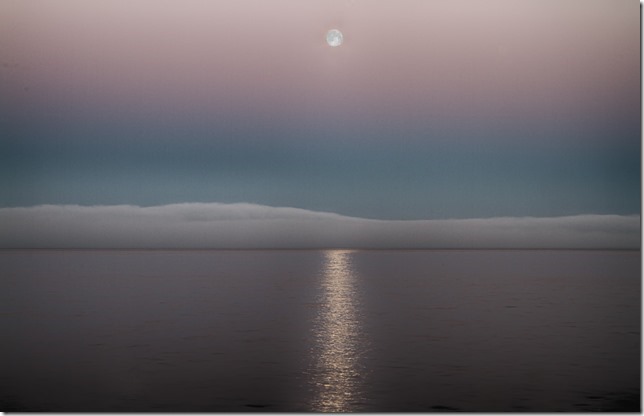 On my recent visit to Maine, I spent some time one evening visiting Rockland Breakwater Lighthouse. This is a rather unique spot, as the lighthouse is in the middle of Rockland Harbor, at the end of a large breakwater jetty that projects nearly a mile from the shore. As I set out on my quest to see the lighthouse itself, I found myself far more entranced by the natural spectacle that  was playing out on either side of the breakwater.
To my right, looking back towards Rockland, a gorgeous sunset, saturated with orange and violet and filled with the silhouettes of ships at rest in the harbor. But to my left, something unusual, odd, and somewhat eerie. The full moon was rising over Penobscot Bay, and the fog was rolling in. Now, we get fog in Florida, but it was nothing like this. The fog over the harbor was a thick bank, well defined, and was rolling in slowly, palpably, almost as though it were alive.
The fog was eerie enough on its own, but the rising full moon gave it a silvery sheen, and the remnants of colors from the sunset produced a sight unlike any I've see anywhere before. In a future post, I'll offer the sunset view to the west, but for now, gaze upon the ominous fog as it rolls in off the bay.
I was glad to make it back off the breakwater and onto dry land before the fog finally rolled in!