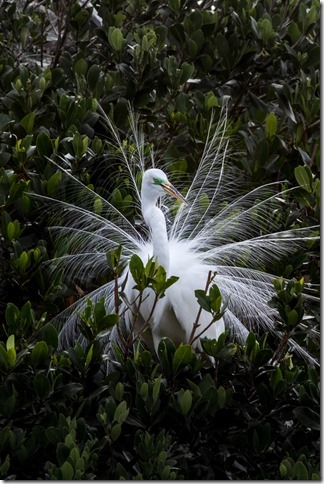 We recently celebrated Mother's Day, and for a treat, Carol, Ava and I went on a short "cruise" here in the Tampa Bay Area. We left from the soon-to-be-closed St. Pete Pier, and cruised with members of the local Audubon Society to a small mangrove island near the mouth of a local inlet known as Coffeepot Bayou. The island is known as "Bird Island," and for good reason – hundreds of wading birds and shore birds make this place their home. It is populated year-round with all manner of aquatic birds including egrets, herons, ibis, pelicans, anhinga and cormorants.
This time of the year is special, though – and in keeping with the Mother's Day theme, it happens to be nesting season for the birds. So, while a trip to an island full of birds would ordinarily have greatest appeal to an avid birder like me, the chance to see egrets and herons in full breeding plumage, as well as the opportunity to see chicks in the nest, made this a more broadly appealing trip, with something for everyone!
The sights and sounds were amazing, although I have to admit that (being an aviary of fish-eating birds) the olfactory experience was quite intense.
Our cruise was booked on the Dolphin Queen, a boat that makes daily dolphin sighting trips from the St. Pete Pier. Captain Fred and his crew were friendly and capable, and if you're considering a dolphin cruise in this area, I'd recommend him! Although, you may have to hunt a bit once the Pier is closed for re-building.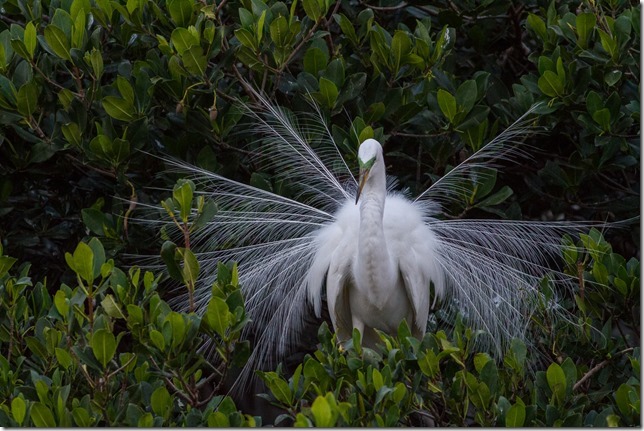 All proceeds of our privately chartered cruise went to support the St. Pete Audubon Society. The cruise was well attended – I would guess nearly a sellout – and so should bode well for support for the local Audubon chapter, and also for the prospect of similar ventures in the future (fingers crossed).